The broader your online reach the more bookings you get. Our channel management system acts as bridge between your hotel and numerous travel booking platforms increasing your online reach.
Benefit from our 100+ connected online distribution channels
Don't miss out on a single booking, easily maintain your online presence on 100s of esteemed global as well as national OTA channels such as Expedia, booking.com etc. What's more, you can also get bookings from various GDS channels like Galileo and Pegasus along with Meta Search sites TripAdvisor, Google Hotel Finder etc. Apart from that, the channel manager also offers seamless connectivity with 30+ rental vacation rental lodging websites like AirBnB, HolidayLettings and more.
Flawless interface with hotel system and booking engine
Constructing an absolute connectivity, eZee online distribution system integrates with hotel management solutions and online booking system, which allows you to publish complete hotel inventory on OTA websites in real-time. As all the systems are connected, as soon as you receive a booking from OTA, the PMS detects the incoming booking. Once the booking is confirmed, the distribution system will further update the revised inventory on all connected channels along with the hotel website and Facebook. This entire process takes place in a matter of seconds ensuring that you don't miss a single booking.
One of the best parts is that all eZee's cloud solutions are built on the same platform, thus eZee Centrix offers seamless connection with eZee's hotel management software and booking engine ensuring maximum online exposure and minimum over-booking. Additionally, this also saves you from a lot of to and fro communication involved in integration with 3rd party PMS and booking engine, ultimately affecting the quality of the integration.
Synchronization with vacation rental portals
The market for Vacation Rentals is growing quickly with the rise of small property owners and individual unit sellers such as rooms, apartments, villas, etc. However, when it comes to distributing inventory on multiple vacation rental portals, this particular segment is still lagging behind. Significantly assisting the small property owners, eZee Centrix will efficiently synchronize the Availability Calendar on leading vacation rental websites. As a result, this will enrich your online visibility, help you upsurge services and result in higher contingency for booking conversion.
Till date, eZee Centrix is connected with more than 30 reputed vacation rental lodging websites and new channels are added on regular basis.
Explore List of Vacation Rental portals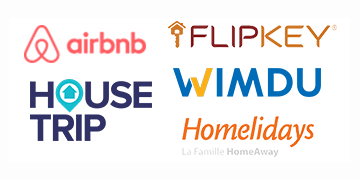 Third party interfaces
eZee's tech-experts have developed eZee Centrix with an industry-standard compliant API, allowing you to efficiently link the online channel manager with numerous 3rd party solutions. In case we do not have an interface with any of your preferred 3rd party application such as hotel PMS or booking system, we would be glad to create a new interface as well.